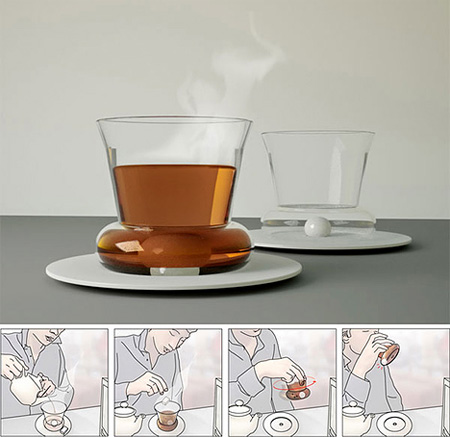 Sipping tea the cool way is easy.
"Ceramic For Mix"
is a self stirring teacup created by two French designers and has a protruding base that bulges out at the bottom and a ceramic ball that stirs the tea. Pour in the milk, sugar, honey and/or lemon and then swirl the cup around. Gravity ensures that the ceramic ball doesn't knock out your teeth or hit you in the schnoz when you take a snip - the ball just does it's thing and hangs out at the bottom.
The Float Tea Lantern
by Todd MacAllen and Stephanie Forsythe is clearly a model of product design in the great tradition of Mies and Jacobsen. The Canadian designers created a transparent teapot with an integral vacuum jacket, which conserves heat and allows the simple cylinder to be picked up by hand. The double wall maintains an ideal serving temperature, while still allowing the lantern to be easily held and poured, like a wine bottle. And check out those "teacups"! Definitely JUST COOL!
via
doug forsythe gallery