I'm not much for toilet humor but this is one funny toilet! Only in Japan would they come up with something as multifunctionally weird as this. It's called the Rescue Toilet. Intended for emergency use, it folds up into a briefcase (see bottom left illustration) so it's just dandy for people who are on the go ;) And then there's the ultimate upscale version called the Gotta Go Briefcase Toilet (below). For those of you who prefer to go in style, Japan also brings us a luxury model. From
InventorSpot
: "The water proof briefcase [toilet] retains an elegant yet durable appearance with high quality Mahogany leather, a strong lightweight aluminum internal structure, and stainless steel bowl with generously equipped sealing lid. Quietly and discreetly go about your personal "business" anywhere you please with a fold out leather privacy panel which tucks away neatly to the side when you have completed your multi-tasking. A toilet paper dispenser easily swings out and can be conveniently stored in an inconspicuous storage compartment under the padding [for added discretion] when not in use.Also included are the small tray with cup holder (clips onto the privacy panel), attachable vanity mirror, and refillable hand sanitizing dispenser. The newspaper and air freshener are not included but recommended."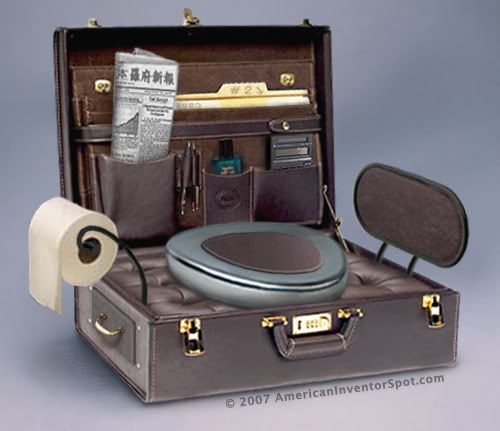 Hmmm...what's wrong with this
picture
??? Can't say it's JUST COOL...