P

oppy Petunia
informed me this morning that it's time to get her her own place. So I've been looking, searching the doggy real estate market and there are alot of interesting
dog house
s out there.
I don't know what style she'll decide on. Like me, she is eclectic in her taste. Sometimes her favorite lounging spot is my modern yellow
sofa, while other times i'll catch her nestled in her shabby chic pink and blue quilt with the pink flowered sheets.
So Pops, which one will it be?
a little too stuffy for fun loving poppy petunia i think
how about a meditareanean villa?
or a Swiss Chalet
naaaaaaa...thats not Poppy
now we're talkin' - this has that cottage chic look that she loves
but we're not quite there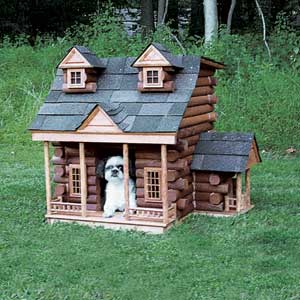 a Dog Cabin!
nope...
Pink Craftsman Bungalow.. Pink is Pops color - and its a delicate shade of pink too
yeahhh!
I like this one too.
Popsy, don't give up just yet!

besides there's All Natural, Premium Dog Food at Only Natural Pet Store
This one looks like cool digs....minimalist,green and
organic....
earthy...nice
Such a tough decision - I guess for now Moms yellow sofa will suffice.