There's no reason why dogs should go hungry. Berlin recently opened a soup kitchen exclusively for dogs which comes on the heels of a failing economy and a higher unemployment rate. At the doggy soup kitchen, the homeless and unemployed can bring their pets in to take advantage of a free meal. One woman who uses the free service said she had two dogs, four cats, a rabbit and some guinea pigs. "Without this animal bread line, I'd probably starve to death," the 20-year old told German daily Sueddeutsche Zeitung. Hey, whats a 20 year old doing with all those pets, anyway?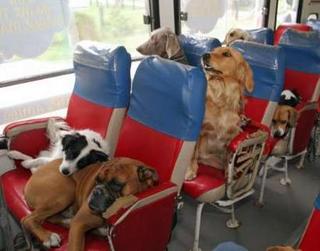 The opening of the dog soup kitchen comes right after another Berlin first. A Doggy shuttle bus that shuttles its furry friends back and forth to doggy day care.
Nice to see Berlin taking care of its own...dogs. Its JUST COOL!